Christoph Marthaler and Anna Viebrock have together over the past 20 years created memorable moments in European theatre, with original productions such as "Murx, den Europäer", "Stunde Null" and "Die Specialisten".
In the spring of 2011 Marthaler and Viebrock travelled with their team of actors, singers and designers to the world's largest island, Greenland, to discover forgotten people, music and stories in one of the most isolated places on earth. For two months they lived in Ilulissat and Nuuk while, together with actors from Greenland, they developed the music theatre production ±0 A Subpolar Base Camp.
The three signs in the title – plus, minus, zero – indicate the point on the Celsius scale where solid and liquid meet: where solid ground becomes thin ice. Few places experience this interchange more than Greenland, where extreme natural conditions and social isolation dominate everyday life, and the difference between plus or minus can be the difference between life and death. Its magnificent landscape of snow and ice is at the forefront of global climate change: the ice is melting. Life will never be the same in Greenland, and this change is caused by ±0.
±0 A Subpolar Base Camp is an extraordinary music-theatre experience – a journey into an Arctic night with songs and tales in Greenlandic, French, English, German and Danish, from Greenland and the rest of Europe – present and forgotten.
"God knows Christoph Marthaler has made great and beautiful performances. But this time, with ±0, he gives us a wonder that levitated Theatre de la Ville on the opening night."
— Le Monde, France
"So cold and clear, and yet so humble and heartwarmingly human. Until now [Marthaler] has not sung of our regions of loneliness […] so big, so extensive as this evening."
— Frankfurter Rundschau, Germany
Based on music by:
Ludwig van Beethoven (excerpt from Symphony No. 7, Allegretto), Wolfgang AmadeusMozart (Eine kleine Gigue and Menuett for piano), Richard Strauss (excerpts from Alpensymphonie & Also sprach Zarathustra), Giacomo Puccini (excerpt from Madame Butterfly), Henry Purcell (excerpt from King Arthur), Henri Duparc(La vie antérieure), Abbé Bovet (Liauba), John Cage (excerpts from 44 Harmonies from Apartment House 1776), Johannes Brahms (excerpts from Ein Deutsches Requiem), Procol Harum, Paul Kuhn, Gustav Mahler (excerpt from Lied von der Erde), Arnold Schönberg (excerpt from String Quartett No. 2), Efraim Hansen/Kristen Poulsen (Ukiaq seqerna pukkilisoq), Godmand Rasmussen/Kristen Poulsen (Nipi saamangaarttoq maanna), Kasimir Meister/Josef Reinhart (Mys Mueti).
Text by:
Ensemble, as well as excerpts from Jorge Luis Borges, The Book of Sand; Alfred Döblin, Mountains Seas and Giants; Juan Goytisolo, Lanscapes after the battle; Hanns Hörbiger, Glacial-Cosmology; Anna Kim, Invading the private; Ole Korneliussen, When it snows while the sun shines; George Steiner, Reasons for the Sadness of Thought; Traditional story from the Alps (Blumenlisalp); General Instructions of 19.4.1783 issued by The Royal Greenland Trading Department.
±0 A Subpolar Base Camp was produced I Greenland in 2011 by Unlimited Performing Arts in cooperation with Volksbühne am Rosa-Luxemburg-Platz, Katuaq, Nuuk, Wiener Festwochen, Bergen InternationalFestival, Royal Danish Theatre, Théâtre de la Ville/ Festival dÁutomne a ´Paris, Stadsteatern Stockholm, London Festival 2012 and Kampnagel, Hamburg.
Excerpt from the documentary film "Basislager" by Hans Peter Böffgen. © Tonfilm Frankfurt/ Unlimited Performing Arts, 2011.
Direction: Christoph Marthaler
Stage and Costumes design: Anna Viebrock
Musical Direction: Rosemary Hardy
Musical Coordination, piano: Bendix Dethleffsen
Artistic cooperator/ Co director: Gerhard Alt
Ass. Set Design and Costumes: Ramallah Aubrecht
Technical Director: Peter Riis Mørk
Light: Phoenix (Andreas Hofer)
Sound: Fritz Rickenbacher
Dramaturgy: Stefanie Carp und Malte Ubenauf
With: Marc Bodnar, Bendix Dethleffsen, Rosemary Hardy, Ueli Jäggi, Gazzaalung Qaavigaq, Sasha Rau, Bettina Stucky, Nukâka Coster Waldau, Jürg Kienberger und Raphael Clamer
Ass. Director: Sophie Zeuschner, Wardrobe: Ramallah Aubrecht
Make up: Puk Zakariasen, Britta Riehm
Video: Hans Peter Böffgen
Engineering: Philipp Bösch
Sculpture: Stefan Möllers
Props: Franz Jackel
In German, Greenlandic, Danish, French and English
Producer: Unlimited Performing Arts/ Nicolai Vemming
Workshops: Volksbühne am Rosa-Luxemburg-Platz
A PRODUCTION BY Unlimited Performing Arts in cooperation with Volksbühne am Rosa-Luxemburg-Platz, Katuaq, Nuuk, Wiener Festwochen, Bergen InternationalFestival, Royal Danish Theatre, Théâtre de la Ville/ Festival dÁutomne a ´Paris, Stadsteatern Stockholm, London Festival 2012 and Kampnagel, Hamburg.
Supported by Nordic Culture Fund and Nordic Culture Point
Book Release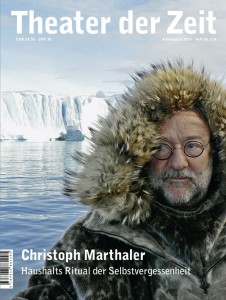 Haushalts Ritual der Selbstvergessenheit
German theater magazine "Theater der Zeit" has published a "workbook" where Christoph Marthaler and his dramaturges Stephanie Carp and Malte Ubenauf looks back on some of their productions such as "Schutz for der Zukunft" Paperlapapp", "Riesenbutzbach" and "+-0". The "workbook" offers an insight in their production cosmos through a richness of notes and photos from Christoph Marthalers private archives.
Anna Viebrock
Anna Viebrock studied set design with Karl Kneidl at the Kunstakademie Düsseldorf. Her collaboration with Christoph Marthaler has taken her to numerous theatres and opera houses, including the Basel Theatre, the Volksbühne am Rosa-Luxemburg-Platz in Berlin, the Hamburg Schauspielhaus, the Frankfurt Opera, the Opéra national de Paris and the Zurich Schauspielhaus, where she was a member of the directorial team until the summer of 2004. She also worked with Marthaler on guest productions at festivals such as the Bayreuth Festival (Tristan und Isolde), the Vienna Festival, the Festival d'Avignon and the Salzburg Festival (Pierrot lunaire/Quatuor pour la fin du temps, Kát'a Kabanová, Zur schönen Aussicht, Le nozze di Figaro).
Since 1994 Anna Viebrock has also worked regularly with the directors Jossi Wieler and Sergio Morabito, designing sets and costumes for their opera productions at the Salzburg Festival (Ariadne auf Naxos), the Theater Basel, the Nederlandse Opera Amsterdam and above all at the Stuttgart State Opera.
Anna Viebrock has been voted Set Designer of the Year and Costume Designer of the Year several times by the Critics' Poll of the Theater heute magazine. An exhibition of her set designs was shown in Rotterdam, Prague, Frankfurt/Main, Basel, Madrid, Brussels, Ghent and Avignon.
Alongside her work as a set and costume designer Anna Viebrock has also directed her own productions. At the Hanover State Opera she staged the premiere of iOPAL by Hans-Joachim Hespos, and at the Opéra Bastille in Paris she directed Paul Dukas's Ariane et Barbe-bleu. She has also directed In Vain oder Reproduktion verboten and Geschwister Tanner at the Schauspielhaus Zürich, Ohne Leben Tod at the HAU in Berlin and the premiere of Enno Poppe's opera Arbeit Nahrung Wohnung at the Munich Biennial. At the Theater Basel she created 69 Arten den Blues zu spielen, Doubleface oder Die Innenseite des Mantels and Die Bügelfalte des Himmels hält für immer. Eine Reinigung, while at the Schauspiel Köln she staged Der letzte Riesenalk. Ein Diorama and Wozuwozuwozu, the latter adapted from a novel by Heinrich Böll. In 2011 she directed the premiere of Hans Thomalla's opera Fremd at the Stuttgart State Opera.
Christoph Marthaler
Christoph Marthaler was born in Zurich in 1951 and studied music and theatre in Zurich and Paris. He has worked as a composer and theatre musician at various major German-language theatres and has developed his own music-theatre productions. From 1988 he staged his reflections on Swiss identity at the Badischer Bahnhof for the Basel Theatre during the directorship of Frank Baumbauer. His innovative theatrical language became more widely known on the German-speaking stage with his production Murx den Europäer! Murx ihn! Murx ihn! Murx ihn! Murx ihn ab! (1993), a requiem for the German Democratic Republic at the Volksbühne am Rosa-Luxemburg-Platz in Berlin.
Over the following seven years he staged productions at the Hamburg Schauspielhaus and the Volksbühne am Rosa-Luxemburg-Platz in Berlin which were regularly invited to the Berliner Theatertreffen and other festivals all over the world and which earned Marthaler numerous awards and honours (including the Konrad Wolf Prize, the Fritz Kortner Prize, the Bavarian Theatre Prize and the European Theatre Prize).
From 2000 to 2004 Marthaler was Artistic Director of the Schauspielhaus Zürich. Among some of his productions there were Schubert's Die schöne Müllerin (invited to the Berliner Theatertreffen and the RuhrTriennale), Shakespeare's Twelfth Night, Groundings – Eine Hoffnungsvariante (invited to the Berliner Theatertreffen), Das goldene Zeitalter, a project developed with Meg Stuart, Stefan Pucher and Anna Viebrock for the Schiffbauhalle, and Danton's Death by Büchner (invited to the Berliner Theatertreffen). The 2004–05 season saw premieres of his Seemannslieder (Ghent) and Schutz vor der Zukunft (Vienna Festival; Nestroy Theatre Prize for best director). At the Bayreuth Festival 2005 he staged Tristan und Isolde.
His projects Die Fruchtfliege at the Volksbühne in Berlin (2005) and Winch Only at the Kunstenfestivaldesarts in Brussels (2006; Premio Ubu) were followed in November 2006 by his staging of Horváth's Geschichten aus dem Wiener Wald, premiered at the Volksbühne in Berlin.
2007 saw the staging of his Maeterlinck project in Ghent, La traviata at the Opéra national de Paris, the production Sauser aus Italien with music by Giacinto Scelsi at the Salzburg Festival and Platz Mangel at the Rote Fabrik in Zurich. In 2008 he returned to the Opéra national de Paris with Berg's Wozzeck, and to mark the centenary of the Hotel Waldhaus in Sils he created a production entitled Das Theater mit dem Waldhaus (invited to the Berliner Theatertreffen in 2009). For the 2009 Vienna Festival Christoph Marthaler collaborated with Anna Viebrock on the Riesenbutzbach. Eine Dauerkolonie project, and for the Festival d'Avignon 2010 created the production Papperlapapp. At the Theater Basel he staged Offenbach's La Grande-Duchesse de Gérolstein (2009) and the premiere of Beat Furrer's Wüstenbuch (March 2010). These were followed in November 2010 by his project Meine Faire Dame – Ein Sprachlabor. In 2011 he developed the project +/- 0 in Nuuk (Greenland).