Giuseppe Verdi / Robert Wilson/ Teodor Currentzis
The production is dedicated the memory of Gerard Mortier
"A blockbuster operatic melodrama from the most "calm and collected" stage director of our time – a disciple of experimental theatre, the outstanding American director Robert Wilson. His strange, abstract, surreal pictures engender gasps of adulation. The fact that Wilson is to stage an emotional opera from Verdi is already intriguing. The source of the plot of La Traviata is a novel by Alexandre Dumas fils, which he subsequently adapted for the stage. A courtesan appearing on stage as the main heroine, who sacrifices her love for a young aristocrat for the sake of his happiness and career, was perceived by the Minister of Police as undermining public morals. The matter was complicated by the fact that the inspiration behind the character of the courtesan was a real person – a demi-monde lady, known in the salons of Paris, and Dumas fils' mistress. As a result, the play was banned from the stage in France for a long time. Verdi provoked no less public outcry subsequently and was responsible for putting a heroine with such questionable social status on opera stage for the first time."
– Perm Opera Theatre
On April 19,  2017, La Traviata received a "Golden Mask," the most prestigious Russian theater award, in three categories (Teodor Currentzis – Best Conductor; Nadeshda Pavlova – Best Female Singer; Robert Wilson – Best Lighting Design).
La Traviata was commissioned by Gerard Mortier to open at Teatro Réal, Madrid, in April 2015. Following Gerard Mortier´s untimely departure from the theatre, partly due to his unstable health condition, the production was rescheduled to open at Landestheater Linz on September 19, 2015 and, in it´s current version, at Perm Opera and ballet Theatre on June 17, 2016. The opening Grand Theatre de Luxembourg will take place on October 12, 2018.
Description
Opera in three acts
Performed in Italian with Russian subtitles
Libretto by Francesco Maria Piave, based on Alexandre Dumas-fils's play La Dame aux Camélias
The opera was written in 1853. This version was first performed in Perm on September 19, 2016
Musical Director and Conductor: Teodor Currentzis, Direction, design and light: Robert Wilson, Associate stage director: Nicola Panzer, Conductor: Valentin Uryupin,  Chorus Master: Viatly Polonsky, Associate stage director: Nicola Panzer, Associate set design: Stephanie Engeln, Costume design: Yashi
Associate light design: John Torres, Dramaturg: Konrad Kuhn, Technical Director: Philipp Olbeter, Assistant directors: Giovanni Firpo/ Johann Mittmann, Producer: Unlimited Performing Arts, Workshops: Landestheater Linz, Austria
A production by: Unlimited Performing Arts, Perm Opera and Ballet Theatre, Landestheater Linz and Théâtres de la Ville de Luxembourg.
Robert Wilson
The New The York Times described Robert Wilson as "a towering figure in the 
world of experimental theater and an explorer in the uses of time and space on stage." Born in Waco, Texas, Wilson is among the world's foremost theater and visual artists. His works for the stage unconventionally integrate a wide variety of artistic media, including dance, movement, lighting, sculpture, music and text. His images are aesthetically striking and emotionally charged, and his productions have earned the acclaim of audiences and critics worldwide. After being educated at the University of Texas and Brooklyn's Pratt Institute, Wilson founded the New York-based performance collective "The Byrd Hoffman School of Byrds" in the mid-1960s, and developed his first signature works, including Deafman Glance (1970) and A Letter for Queen Victoria (1974-1975). With Philip Glass he wrote the seminal opera Einstein on the Beach (1976). Wilson's artistic collaborators include many writers and musicians such as Heiner Müller, Tom Waits, Susan Sontag, Laurie Anderson, William Burroughs, Lou Reed and Jessye Norman. He has also left his imprint on masterworks such as Beckett's Krapp's Last Tape, Puccini's Madama Butterfly, Debussy's Pelléas et Melisande, Brecht/Weill's Threepenny Opera, Büchner's Woyzeck, Jean de la Fontaine's Fables and Homer's Odyssey. Wilson's drawings, paintings and sculptures have been presented around the world in hundreds of solo and group showings, and his works are held in private collections and museums throughout the world. Wilson has been honored with numerous awards for excellence, including a Pulitzer Prize nomination, two Premio Ubu awards, the Golden Lion of the Venice Biennale, and an Olivier Award. He was elected to the American Academy of Arts and Letters and France pronounced him Commandeur des Arts et des Lettres. Wilson is the founder and Artistic Director of The Watermill Center, a laboratory for performing arts in Watermill, New York.
Teodor Currentzis
Teodor Currentzis is the Artistic Director of the Perm State Opera and Ballet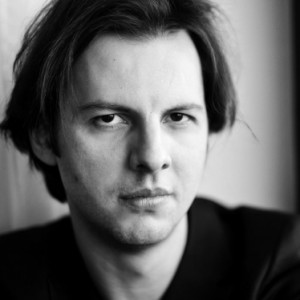 Theatre, Artistic Director of the ensemble MusicAeterna and of the MusicAeterna Chamber Choir, both formed in 2004, during his tenure as Music Director of the Novosibirsk State Opera and Orchestra (2004-2010).
MusicAeterna, now resident in Perm, has been granted the status of the first orchestra of Perm State Theatre of Opera and Ballet.  In 2015/16, MusicAeterna's European touring include a new staging of Rheingold at the Ruhrtriennale Festival, the Da Ponte Operas in concert version in Dortmund and a tour with Patricia Kopatchsinkaja to include Berlin, Vienna, Zurich, Rotterdam.  At home, they will stage Traviata with Bob Wilson and give concerts in St. Petersburg and Moscow. In recent seasons, MusicAeterna have made their debuts at the Festival International d'Art Lyrique in Aix,  Lucerne Easter Festival, Helsinki Festival, Klara Festival, Brussels, Radialsystem Berlin, Berlin Phiharmonie, Cité de la musique, the International Festival Baden-Baden, the Bregenz Festival, Vienna Musikverein and the Concertgebouw, Amsterdam. Outside of Perm, Teodor will conduct a new production of Macbeth with Zürich Opera and will return to SWR Baden-Baden for a tour with Patricia Kopatchinskaja.
Teodor Currentzis and MusicAeterna are exclusive Sony artists and this year will finish recording all the Mozart Da Ponte operas; the first recording (Figaro) was released in January 2014 and won the ECHO prize for Opera Recording of the Year (17th/18th century opera). Così fan tutte in 2015 and Don Giovanni will be released in 2016. Also this year he released The Sound of Light; a compilation pieces by Rameau. In October 2015, he will release The Rite of Spring. Previous recordings include Shostakovich's Symphony No. 14, Mozart's Requiem and Percell's Dido and Aeneas all on the Alpha label and the Shostakovich Piano Concertos with Alexander Melnikov and the Mahler Chamber Orchestra on the Harmonia Mundi label.