E.T.A Hoffmann / Robert Wilson/ Anna Calvi
"He is a wicked man, who comes to children when they won't go to bed, and throws a handful of sand into their eyes, so that they start out bleeding from their heads. He puts their eyes in a bag and carries them to the crescent moon to feed his own children, who sit in the nest up there. They have crooked beaks like owls so that they can pick up the eyes of naughty human children."
     — E.T.A. Hoffmann, "The Sandman" (English translation by John Oxenford)
Robert Wilson directs The Sandman, a key work of German Romanticism, with music by British dramatic rock singer songwriter Anna Calvi.  Previous productions of 'dark fairy tales' by Robert Wilson include The Black Rider (Hamburg 1990) and Peter Pan (Berlin 2013).
"The cast skips between grotesque and horror. There's a fine line between laughter and terror. Perhaps Sandman will become another hit like Black Rider. This horror musical certainly has the musical potential."
— WELT am Sonntag, Germany
Description
Duration 2 h. (one intermission)
Based on the novell "Der Sandmann" (1816) by E.T.A. Hoffmann
Lyrics by Anna Calvi
Performed in German with lyrics in English
This production was first performed in Recklinghausen, Germany on May 3, 2017
Costume:
Jacques Reynaud, 
Orchestra Arrangement and original score:
Jherek Bischoff,
Co- director:
Ann-Christin Rommen, 
Associated Set Designer:
Annick Lavallée-Benny,
Associated Costume Designer:
Alexander Djurkov-Hotter,
Associated Light Designer:
Scott Bolman, 
Dramaturge:
Janine Ortiz,
Ensemble:
Christian Friedel, Lou Strenger, Jonas Friedrich, Leonhardi Rainer Philippi, Rosa Enskat,  Andreas Grothgar, Konstantin Lindhorst, Yi-An Chen,  Alexej Lochmann,  André Kaczmarczyk and 
Band
: 
Zuzana Leherová (Violine, Keyboard)
,
Radek Stawarz (Viola)
,
Nathan Bontrager (Cello)
,
Bernd Keul (Kontrabass, E-Bass)
,
Annette Maye (Klarinette, Bassklarinette)
,
Achim Fink (Tuba, Posaune)
,
Roger Schaffrath (Gitarre, Mandoline)
,
Tim Dudek (Schlagzeug, Electronics)
,
Frank Schulte (Sounddesign)
A production by: Unlimited Performing Arts, Düsseldorfer Schauspielhaus, Ruhrfestspiele Recklinghausen.
Robert Wilson
The New The York Times described Robert Wilson as "a towering figure in the 
world of experimental theater and an explorer in the uses of time and space on stage." Born in Waco, Texas, Wilson is among the world's foremost theater and visual artists. His works for the stage unconventionally integrate a wide variety of artistic media, including dance, movement, lighting, sculpture, music and text. His images are aesthetically striking and emotionally charged, and his productions have earned the acclaim of audiences and critics worldwide. After being educated at the University of Texas and Brooklyn's Pratt Institute, Wilson founded the New York-based performance collective "The Byrd Hoffman School of Byrds" in the mid-1960s, and developed his first signature works, including Deafman Glance (1970) and A Letter for Queen Victoria (1974-1975). With Philip Glass he wrote the seminal opera Einstein on the Beach (1976). Wilson's artistic collaborators include many writers and musicians such as Heiner Müller, Tom Waits, Susan Sontag, Laurie Anderson, William Burroughs, Lou Reed and Jessye Norman. He has also left his imprint on masterworks such as Beckett's Krapp's Last Tape, Puccini's Madama Butterfly, Debussy's Pelléas et Melisande, Brecht/Weill's Threepenny Opera, Büchner's Woyzeck, Jean de la Fontaine's Fables and Homer's Odyssey. Wilson's drawings, paintings and sculptures have been presented around the world in hundreds of solo and group showings, and his works are held in private collections and museums throughout the world. Wilson has been honored with numerous awards for excellence, including a Pulitzer Prize nomination, two Premio Ubu awards, the Golden Lion of the Venice Biennale, and an Olivier Award. He was elected to the American Academy of Arts and Letters and France pronounced him Commandeur des Arts et des Lettres. Wilson is the founder and Artistic Director of The Watermill Center, a laboratory for performing arts in Watermill, New York.
Anna Calvi
Anna Calvi is an English singer-songwriter and guitarist.  Calvi has been nominated twice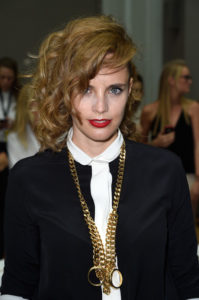 for the prestigious Mercury Prize for her debut album 'Anna Calvi' and 'One Breath' released in 2011 and 2013 respectively.  Calvi's debut album was also nominated for a BRIT Award.
Brian Eno once called Calvi "the biggest thing since Patti Smith" in admiration.  Outside releasing her two critically acclaimed albums, Calvi has collaborated with David Byrne on her 'Strange Weather' EP, and Marianne Faithful on her album 'Give My Love To London'.
Calvi is known for her intense guitar playing and live performance, and has toured extensively worldwide, including tours with Nick Cave and Morrissey.
Anna Calvi´s third studio album Hunter was released by Domino Records on 31 August 2018. The album is co-produced by Nick Launay, and features Adrian Utley from Portishead and Martyn P. Casey from the Bad Seeds. At the same time she released a single, "Don't Beat the Girl Out of My Boy", and announced a European tour in support.